Sydney
Sydney, city, capital of the state of New South Wales, Australia. Located on Australia's southeastern coast, Sydney is the country's largest city and, with its magnificent harbour and strategic position, is one of the most important ports in the South Pacific. In the early 19th century, when it was still a small convict settlement and the first settlers had barely penetrated the interior, it had already established trade with the Pacific Islands, India, China, South Africa, and the Americas.
More Detail
Brisbane
Brisbane, port, capital of Queensland, Australia, and the country's third largest city. It lies astride the Brisbane River on the southern slopes of the Taylor Range, 12 miles (19 km) above the river's mouth at Moreton Bay.
More Detail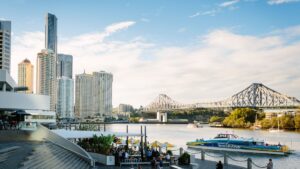 Melbourne
Melbourne, city, capital of the state of Victoria, Australia. It is located at the head of Port Phillip Bay, on the southeastern coast. The central city is home to about 136,000 people and is the core of an extensive metropolitan area—the world's most southerly with a population of more than 1,000,000. In Australia it is second only to Sydney in population, and there is a good-natured rivalry between the two cities, to which geography and history have bequeathed diverse characteristics.
More Detail